The amazing world of pet accessories at Crufts
Households are feeling the financial squeeze but it seems we do not want to inflict the pinch on our pets.
Weekly spending on pets, their food and accessories, has risen by 31% in two years, to total £148m in 2017, official figures reveal.
It has proved a promising market for many dog-loving entrepreneurs, who have turned their dreams of canine sushi, neckties and four-poster beds into family-run British businesses.
One in four UK households own a dog, adding up to 8.5 million mutts in homes across the country. So there is no shortage of potential customers for even the most unusual pet paraphernalia, some of which is on display in the vast halls of Birmingham's NEC at the Kennel Club's annual dog show – Crufts.
Dog tired
Courtney Gilbert admits that a four-poster bed for a dog is an "extravagant touch".
Still in prototype form, the 25-year-old expects to start selling the bed to order for a minimum of £395.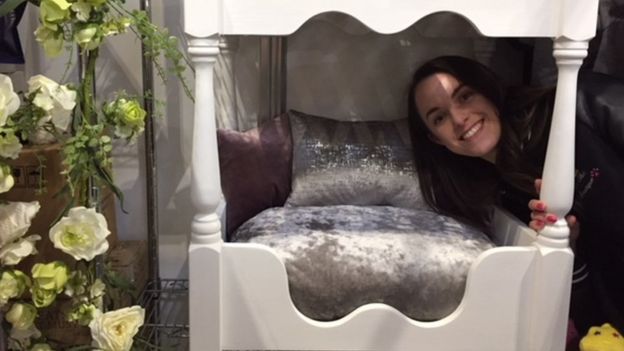 Options include matching the feather and down cushions to the colour of the owner's curtains, and adding a ladder to the side of the bed so a second dog can snuggle down on the top.
Miss Gilbert, who is based near Coventry, says the inspiration for the luxury pet bed business came while bored during the holidays as she studied for a fashion degree.
Her mum challenged her to design a bed for the family dog. She embellished a bedroom drawer. It proved to be a light bulb moment, as she went on to establish Cosy Chic Pet Boutique during her spare time while still at university.
Dog's dinner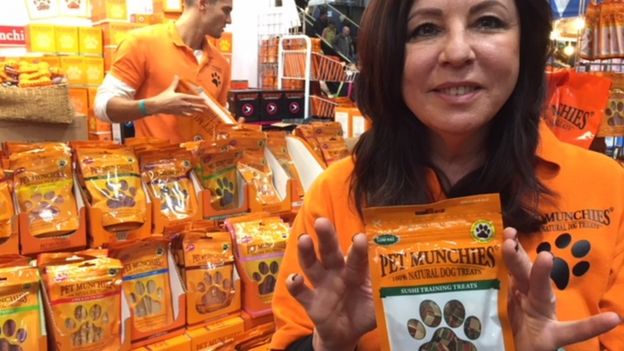 Dogs love to be rewarded. Suzanne Rothman says they love to be rewarded with sushi.
The training treats are half chicken, half fish and used to ensure the animal's full attention during agility and obedience sessions.
Mrs Rothman, the managing director of Pet Munchies based in St Albans, says quality is the focus for her products.
"I have tasted every single one," she says.
"I've been to dinner parties where I've eaten a lot worse."
Dirty dog
The problem was obvious to Mandy Davies as she strolled along Cornwall's coastal path – scores of plastic bags filled with dog waste discarded in the scrub.
Her solution was inspired by activity out on the surf.
She used a thick wetsuit material to create an airtight container – called a Dicky Bag – into which dog walkers place their dog's bagged deposits until they get home. An air freshener inside takes the edge off the whiff when the contents are emptied into the bin.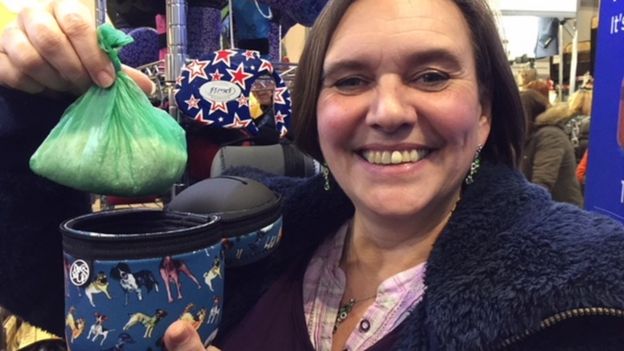 "It was time to stop the excuses. I was sick of seeing [the mess]," she says.
"You can't always have a bin exactly where you need it, so this means you can take the bin with you."
Mrs Davies and her husband remortgaged their home to start producing the handmade containers. Now they are selling them for between £21 an £35, and they have quit their day jobs to concentrate on the business full time.
The reason for the name, Dicky Bags?
"Because they are for carrying Richard the Thirds," she explains.
Diamond dog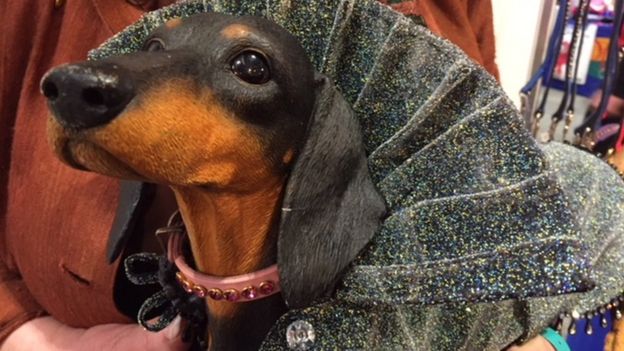 Those keen to be seen could not possibly head out without colour co-ordinating with their dog.
Joanne Mahon, managing director of Diamond Dogs UK, serves their needs. She matches high-end sweaters, or crystal encrusted collars, for dogs and their owners.
Her designs, using Swarovski crystals and diamonds, have been presented on the catwalk in Moscow and, for many years, on a trade stand at Crufts.
Owners typically spend between £80 and £250 on the durable, fashionable accessories, she says.
Yet celebrities and the mega-rich can pay more. One paid £50,000 to put diamonds around the neck of their pet.
Dog collar
A sparkling neckpiece does not always require precious stones.
Glow in the dark ties for dogs are a big seller for Petnecks, the Lincolnshire business run by Lesley Sargent and Anne Skelcher.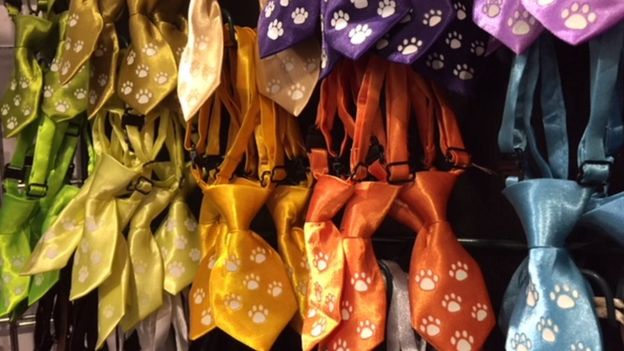 Lesley recruited Anne into the partnership after realising she "could not sew fast enough" to keep up with demand for dog bandanas and neckpieces.
Most sell for £4 or £5 to dog owners keen to buy non-edible treats for their pets.
She says they also cater for the formal occasion.
For weddings, she has matched a tie for the dog with the groom's cravat or the bridesmaids' dresses.